Knowledge

Make Landing Pages Less Boring With Videos
4 January 2023
|
Make Landing Pages Less Boring With Videos
Landing pages. A marketing frontier that has been a tried and tested tool for customer conversion for almost two decades now. Ever wondered where it all started? While standalone web pages have been used by direct response marketers since the birth of the internet, the concept of landing pages originated in late 2003, when Microsoft's IT departments sought a solution to dropping online sales of their primary product, Office. And look at where we are today – I'm typing this blog out all thanks to Office.
Before we dive into the different ways you can make and deploy videos for Landing Pages, let's take a step back. What is a Landing Page?
Think of Landing Pages (LP) like a welcome mat. They are the first thing that visitors to a website see and they set the tone for the user journey. It's where your visitor "lands" after clicking on a link in an email, search engine result, or advertisement. By landing on your LP,  your visitor has now shown marketing intent – has taken one more step into your acquisition journey. 
Gasp! That's a responsibility any halfway-decent marketer doesn't take lightly.
Why Video?
Videos are becoming increasingly important for landing pages, and for good reason. Everybody loves videos. According to Google, the amount of time people have spent watching unboxing videos just on their phones is the equivalent of watching the holiday classic "Love Actually" more than 20 million times. 
And if that isn't enough, your competitors definitely love videos. According to Content Marketing Institute, 60% of both B2B and B2C marketers use video for marketing. It just makes plain business sense.
While your checklist for "What makes a great Landing Page" remains the same as – what makes a great… well, any other page on your website, the role of a video on an LP becomes so much more important. You want to do everything you can to generate high-intent leads and without a video, you are missing out on an exciting and engaging conversion opportunity. An opportunity where attention is captured, potential customers are educated, conversions are increased and insights are drawn. 
When adorning your landing pages with videos, it is important to consider the context of the page, the target audience, and their needs, as well as a wide variety of factors that enhance the user experience. So, how do you draw the most value from videos on landing pages? Here are 3 things to remember that make videos land brilliantly on landing pages. 
Think of your user journey
Outbrain is a content recommendation engine that drives traffic for some of the largest names in business across industries such as retail, technology, finance, and more. A lot of traffic from the Outbrain affiliate marketing lands on their home page.  And that brings us to an interesting observation – can your homepage double up as a landing page? Absolutely. What's important to define is: does it align with your user journey? If you're running a campaign at the awareness stage, a conversion-optimized homepage works brilliantly. 
Your video of choice in this situation – much like Outbrain – is an explainer video. Resting elegantly above the fold, Outbrain uses a video banner on its homepage that works beautifully for awareness at the top of the funnel.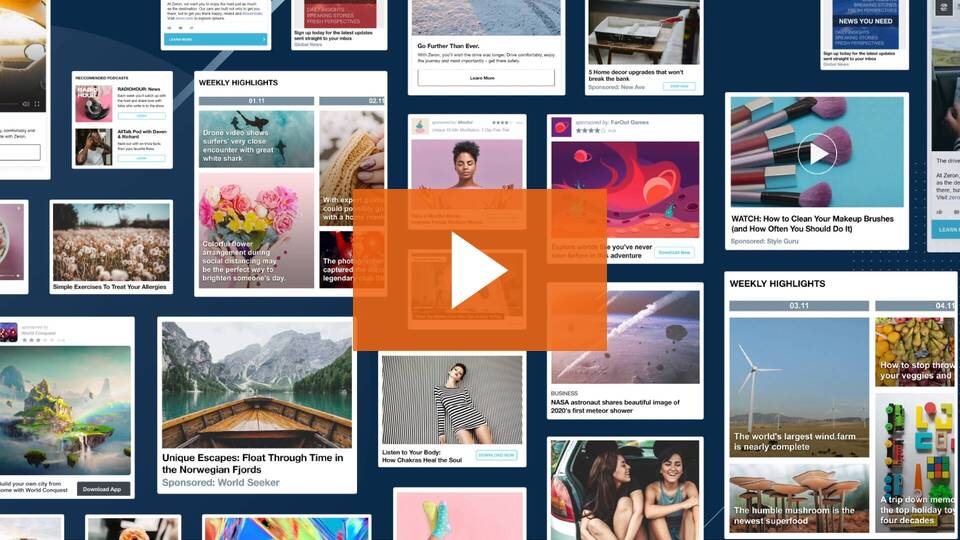 Outbrain – Recommendation Platform Powered by Native Ads
How does your video behave?
This is one of the most interesting questions to answer while building your video landing page. Is your video clickable, or does it autoplay? Is it a popover, or an inline embed? Is it subtitled, or auto-captioned? There's a plethora of behavior decisions to make. And each of these is important. Take the above example for instance. Outbrain's banner video is a clickable popover embed that opens up in a lightbox window. On the other end of the spectrum, you have one of the holy-trinity brands in horology – the epitome of luxury timekeeping – Patek Phillipe deploying an autoplayed video on their landing page. Could they both be right?
When the video is a critical piece of the journey, a clickable video with a pop-over embed is the way to go. You want the audience you've just earned to devote focused attention on the explainer and you want them to make this choice on their own accord. Do this with a compelling thumbnail and inviting copy.
On the other hand, when your video is building on the message of your landing page like Patek – elaborating on craftsmanship and attention to detail, a non-clickable autoplayed banner sets the tone and creates an atmosphere that works beautifully. Pro tip –  always autoplay a video on mute. 
Lead with video 
According to Hubspot reports, 55% of visitors spend less than 15 seconds at an average on any given website. The position of your video plays a crucial role in both – ensuring those 15 seconds are well spent, and increasing your session time while building strong lead intent. 
Replacing your hero image with a video can potentially maximize engagement, increase view time, and efficiently communicate your message. With the right placement and call to action, videos at the top of your landing page (even if not above-the-fold) can increase conversion rates as well as reduce bounce rates. In an era of an ever-decreasing attention span, here's to landing better in your audience's mind. Want to get videos for your landing page that boosts engagement rates and builds trust with your audience? Write to us on [email protected].